Ergänzung zu Ewald Hugo, geb. 25. September 1873, auf Grund von Unterlagen, die auf Ancestry.com , Geneanet und ellisisland.org abgerufen werden konnten:
Einreise Ellis-Island, New York 1901 - Angabe Spalte 15: schon vorher in den USA

Bei der Einreise gab es Probleme, weil er einen türkischen Pass vorlegte. Seine Erklärung gegenüber der Einreisebehörde wurde vom Deutschen Correspondent. December 24, 1901, veröffentlicht. Er stamme aus Regensburg, habe in Straßburg gedient, dann als Kellner in Ragatz in der Schweiz gearbeitet. Danach habe er als Kellner in Constantinopel, Paris und Cairo gearbeitet. Seine Frau habe er verlassen, um sein Glück zu suchen.
1918 Militär-Registrierung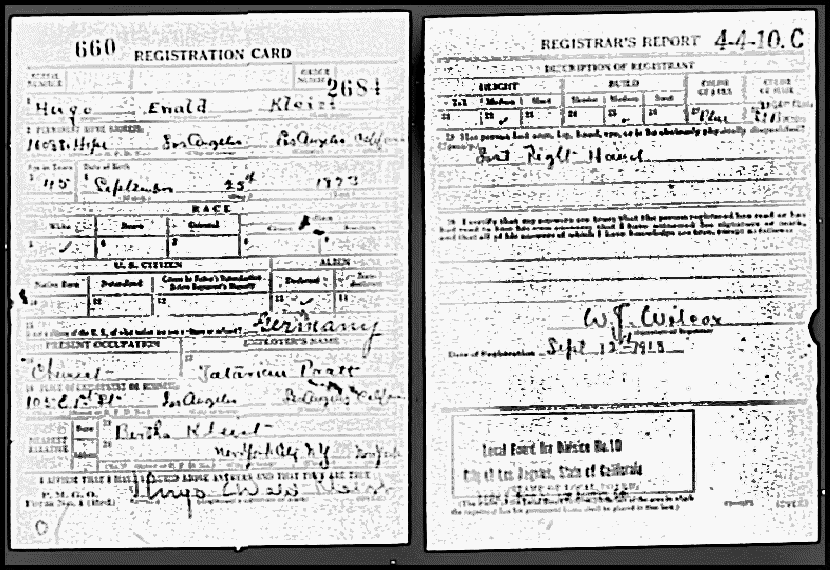 Name:  	Hugo Ewald Kleist
City: 	Los Angeles
County: 	Los Angeles
State: 	California
Birth Date: 	25 Sep 1873
Race: 	White
nearest Relative: Bertha Kleist, New York
Im Personalverzeichnis 1921 der Familie ist der Eintrag enthalten:
"wahrscheinlich verheiratet Straßburg i. E. mit Mathilde Winkler"
| | |
| --- | --- |
| 1930 United States Federal Census | |
Age:
57

Year:

1930
Birthplace:
Bavaria / Bayern; Deutschland

Roll:

T626_152
Race:
White

Page:

15A
State:
California

ED:

527
County:
Los Angeles

Image:

0438
Township:
Los Angeles
Relationship:
Head

---
weitere Informationen: verheiratet, Alter bei 1. Ehe 28. Occupation: Chemist, Industry: Health Foods, own store Einreise 1901

| | |
| --- | --- |
| California Death Index, 1940-1997 | |
| | | | | | | | | | | |
| --- | --- | --- | --- | --- | --- | --- | --- | --- | --- | --- |
| Surname | Given Name | Middle Name | Sex | Birth Date | Death Date | Birth Place | Death Place | Social Security # | Mother's Maiden Name | Father's Surname |
| VONKLEIST | EWALDE | H | MALE | 25 Sep 1873 | 13 Mar 1941 | OTHER COUNTRY | LOS ANGELES | 557202318 | | VONKLEIST |
Die Identität ist auf Grund der Angabe des Geburtsdatums eindeutig.
In der Library of Congress befindet sich das folgende Buch, das insbesondere auf Grund der Schreibweise des Vornamens und der Angabe des Staates Kalifornien Ewald Hugo zuzurechnen ist:
Author: Von Kleist, Ewalde H. [from old catalog]
Title: Diet, the staff of life;
Published: [Los Angeles, System service co., c1926]
LC Call No.: RM216.V6
Ewald Hugo war nach den Angaben zum Census 1930 verheiratet.
Am 31. Juli 1907 reisten aus Southampton auf der S.S. Adriatic nach New York
Bertha von Kleist, 28 Jahre, verheiratet, und Hugo von Kleist, 6 Monate alt.
Bei den Daten von Ewald Hugo waren eine Bertha und Biel genannt. Auch der Vorname des Sohnes läßt eine Verbindung als möglich erscheinen.
In den 20er Jahren findet sich in den Schiffseinreisedokumenten erneut eine Bertha von Kleist aus Biel mit einem Sohn Hugo.


In den Census-Unterlagen 1930 finden sich Bertha, ihr Sohn Hugo und ihre Mutter in New York wieder:
Name: Berache Von Kleist
Home in 1930: Brooklyn, Kings, New York
Age: 50
Estimated birth year: abt 1880
Birthplace: Switzerland
Relation to Head of House: Head
Mother's name: Pauline

Gegen die Vermutung sprechen die Angabe von Bertha 1930, dass sie Witwe sei, sowie nicht übereinstimmende Angaben zum Jahr der ersten Ehe. Der zweite Widerspruch könnte sich auflösen, wenn Bertha die zweite Ehefrau von Ewald Hugo war.
Auf ancestry.com sind inzwischen 2 Todesanzeigen veröffentlicht, die die Vermutung bestätigen:
Ewalde H. Von Kleist
Funeral Services for Ewalde H. Von Kleist, 68, President and founder of the Kovac Laboratories, will be conducted tomorrow at 3 p.m. at the Pierce Bros, chapel, 720 W. Washington Blvd. Interment will be in Inglewood Park Cemetery. Mr. Von Kleist, author and biochemist specialist, died Friday of a heart attack near his laboratories at 6219 S. Main St. A natlve of Germany, Mr. Von Kleist came to the United States 40 years ago. He resided in Los Angeles 25 years. He leaves a son, Hugh Von Kleist, vice-president of the laboratories.
VON KLEIST. Ewalde H., father of Hugh H. Von Kleist.
Informationen zu Hugh H.
1. Ehefrau Muddel ?, siehe unten Sohn Roy Hugh
Nevada Marriage Index, 1956-2005
about Hugh H Vonkleist
Name: Hugh H Vonkleist
Spouse: Virginia L Wenneberg
Marriage Date: 1 Jul 1956
Recorded county: Clark
Page: H16
Identität mit Virginia L, geb. Davis? siehe unten
California Marriage Index, 1960-1985
Name: Shirley A Browe
Age: 46
Est. Birth: abt 1937
Spouse Name: Hugh H Vonkleist
Spouse Age: 76
Est. Spouse Birth: abt 1907
Date: 7 May 1983
LOCATION: Contra Costa
Social Security death index:
Name: Hugh Vonkleist
SSN: 064-10-4400
Last Residence: 94520 Concord, Contra Costa, California, United States of America
Born: 20 Dec 1906
Last Benefit: 94520 Concord, Contra Costa, California, United States of America
Died: Aug 1984
State (Year) SSN issued: New York (Before 1951
California Death Index, 1940-1997
Name: Hugh Hans Vonkleist
Dass Roy Hugh und seine Kinder zu Hugh gehören, ist mit der Veröffentlichung der Census-Daten von 1940 geklärt. Danach ist Roy H. als Sohn im Haushalt von Hugh aufgeführt.
California Death Index, 1940-1997
about Roy Hugh Vonkleist
Name: Roy Hugh Vonkleist
Social Security #: 508402389
Sex: MALE
Birth Date: 4 Oct 1932
Birthplace: New Jersey
Death Date: 16 Jan 1996
Death Place: Los Angeles
Mother's Maiden Name: Muddell
U.S. Veterans Gravesites
Name: Roy Hugh Von Kleist
Service Info.: CPL US ARMY KOREA
Birth Date: 4 Oct 1932
Death Date: 16 Jan 1996
Service Start Date: 27 Jun 1950
Service End Date: 19 Nov 1952
Interment Date: 29 Feb 1996
Cemetery: Riverside National Cemetery
Cemetery Address: 22495 Van Buren Boulevard Riverside, CA 92518
Buried At: Section 47 Site 3051
California Divorce Index
Name: Roy H Vonkleist,
Birth year: 1932
Spouse Name: Margaret E Murphy
Birth year: 1934
Marriage year: 1954
LOCATION: Marin
Date: Jun 1972
Roy Hugh hatte mehrere Kinder